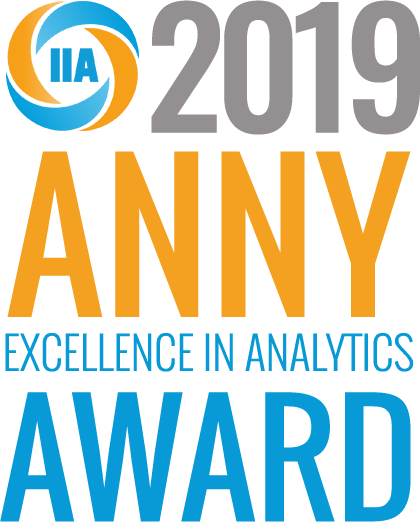 ANNY EXCELLENCE IN ANALYTICS AWARD
The International Institute for Analytics is excited to invite you to nominate your organization for the 2019 ANNY Excellence in Analytics Award. Founded in 2012, the ANNY has been awarded to teams in many industries who have made profound changes to their organization through analytics projects. IIA reviews all applications to select the team who has used advanced analytics in innovative ways to drive measurable business results. Is this your year to win the ANNY?
Not only is the ANNY great recognition amongst your peers but it is a great way to show your organization the giant strides you and your team are making with analytics. Accepting applications until 8/17/2019.
How It's Judged
How to Apply
There are five key areas the panel of judges score the applications on:
Nominees will be evaluated on the following criteria:
Outcomes:

Evidence of sustained, measurable success against planned targets and objectives

Ambition

: Evidence of innovative and unique quantitative analytical techniques being applied

Scale

: Level of coordinated internal resources to foster a meaningful, enterprise-wide analytics program

Skills:

Evidence of a commitment to improving analytical skills of all user types across the enterprise

Insights

: Evidence of higher quality insights and decision-making resulting from the analytical activity
Download the application today. Take the time to put together a complete application and submit before 8/17/2019. The IIA selection of judges, which includes co-founder Tom Davenport and CAO Bill Franks, will comb through your application(s). Make sure you add enough detail for them to truly understand the business impact your project had.
Finalists will be announced  9/12/2019. To be a finalist, a member of your team MUST attend the Fall Analytics Symposium to present your project. The winner will be announced during the event.
Questions? Email anny@iianalytics.com